Dr. Thomas Eclectric Oil was a pain relief remedy and general cure-all created by S. N. Thomas in the 1860's which was sold until the early 20th century. The newer looking brown bottle in our photo was actually bought at a convenience store in the neighbourhood of our store in 2015 and has been added in to our personal collection of vintage oddities.
Sold in Canada by Northrop & Lyman of Toronto and in the United States by Foster-Milburn of Buffalo, N.Y., these bottles are ubiquitous in antique dump sites where one is likely to turn up a few of these bottles.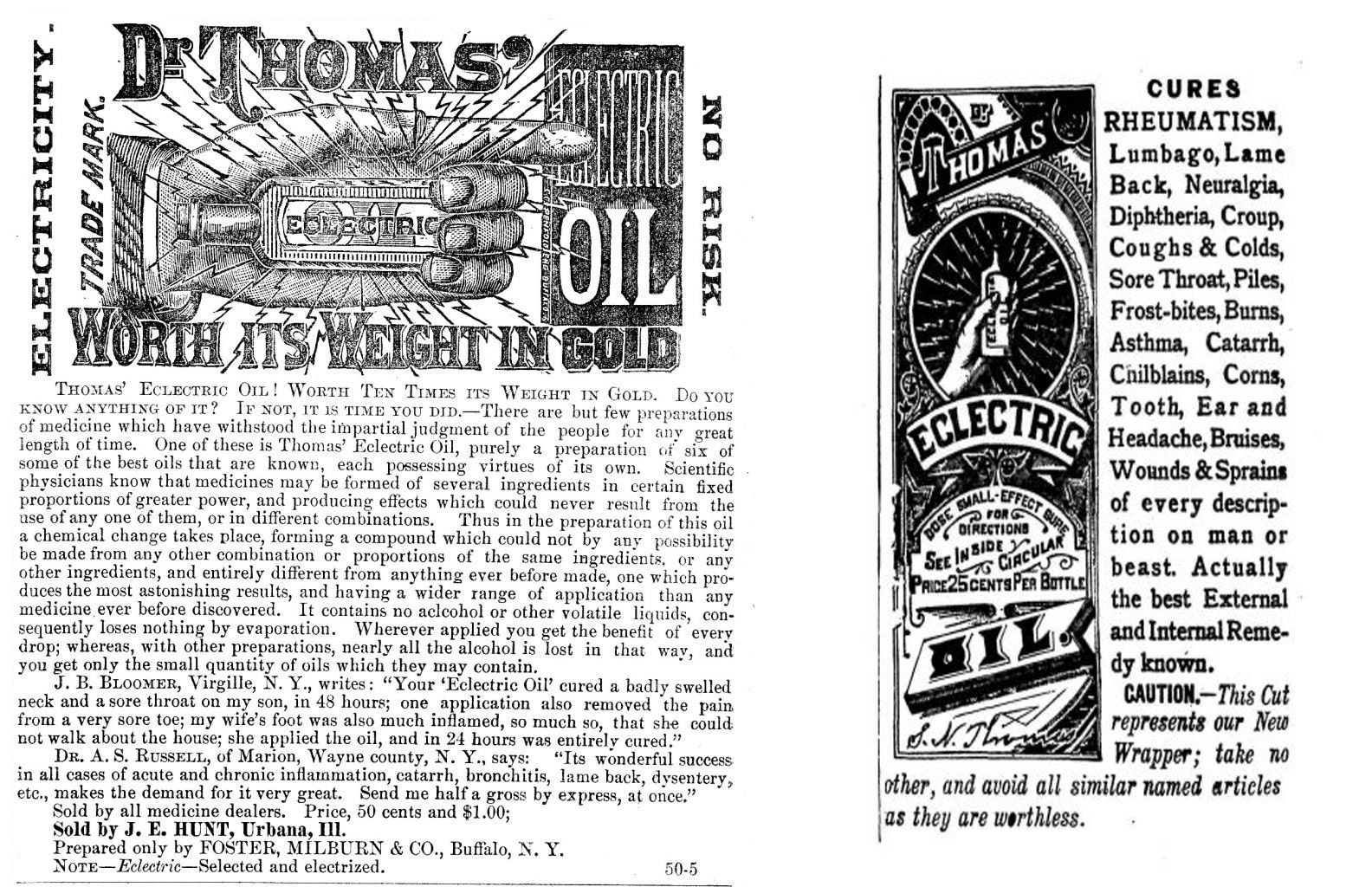 The name is a portmanteau of Electricity and magnetic, giving the customer ideas of advanced technology which didn't exist. The uses of electricity and magnetic forces in medicine date from the 18th century, and many patent medicine makers in the 19th century included the words magnetic or electric in the names of their remedies and devices. There is no lightning in a bottle and this certainly wasn't more than camphor oil, eucalyptus oil, red thyme, and specially extracted fish oils, but with advertising laws nonexistant at the time, companies could get away with calling any product a miracle cure for whatever may ail you. This same product was sold under the name Canadian Healing Oil in many parts of the world  such as the West Indies, Central and South America, Nigeria, Ghana, Australia, New Zealand and the United States.
Most medicines sold are for a specific purpose or for curing a specific disease, but Dr.Thomas' Eclectric Oil is an all purpose remedy to be used internally or externally. Subsequently, packaging and advertising named every ailment that could affect man or beast, with uses ranging from ague to womb fever.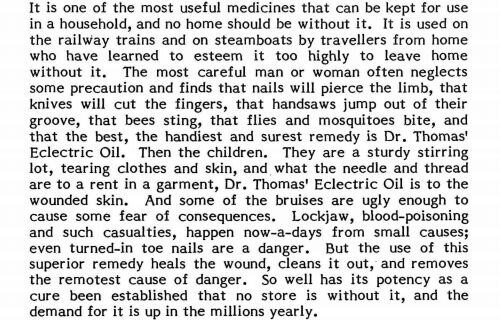 Although not valuable, these antique bottles are still a great collectible item. The bottles were made in a mould in which moulten glass would be poured then mouth blown, which would imprint the name and contents, and the lip of the bottle would would be created by hand while still hot.  As far as old fashioned unregulated medicine goes, this cure all was less snake oil, cash grab, or discrete way to get stoned as it was actual herbal medicine. The ingredients contained within would actually help many common problems like minor burns and scalds, rheumatic pain, sore throat, chapped hands, skin lesions, and aching muscles, and  could be taken internally to relieve sore throats and coughs. It could also be inhaled in vapour form for sinus congestion. 
Do I use Dr.Thomas' Eclectric Oil? That's between me and the Doctor!